Happy New Year! I have a gift for you...
A BRIEF note on the New Year, an important date, and a little something to Love.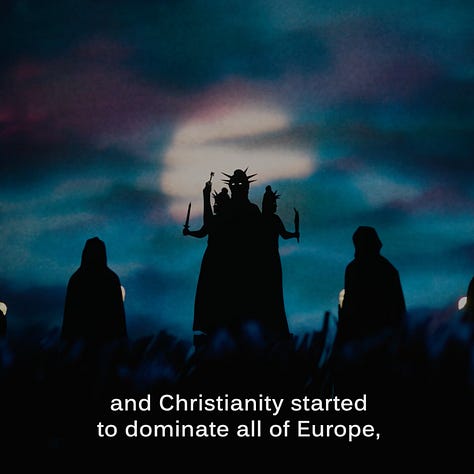 Dear Ones!
This is just a brief little love note. I went a bit quiet over the holiday, allowing myself to go deep into the hush of winter - and I hope you got a chance to do that as well. But I wanted to reach out and let you know that I've been thinking of you.
There's so much wonder in store for us this year! I feel like 2023 is off to an auspicious beginning.
I wish all of you pleasure in your commitments this year, and a commitment to pleasure. And we're going to be practicing that commitment together this year at Mystery Cult. Huzzah!
I'll be writing more on what this shift from the Lovers Year (2022) into the Chariot Year (2023) means (and we'll be doing a whole podcast episode about it soon, and a BTW Workshop on it, so you can find out more about what it means for you here)…
…but in the meantime I wanted to let you know about a few delightful things…
First of all, my Full Moon in Cancer Ritual…
…will be coming up this Thursday at 6pm PST. A Mother Moon, a moon about revisioning our stories, making peace with our histories, and remembering we don't have to earn the right to be loved. I hope you can join us. More info will be coming out here soon. But in the meantime, save the date! The ceremony is for paid subscribers, you can sign up below, if you haven't already.* Looking forward to seeing you there - don't worry, you'll be getting a replay if you can't attend.
*If you're experiencing financial hardship, please email me for scholarships, I want everyone to be able to join in a way that honors us both.
Join my Full Moon In Cancer Ceremony this Thursday evening.
Secondly, don't forget to tune in for the beautiful AMC documentary…
… ALL THEM WITCHES, by director Mona Panchal. I had the honor of participating with Pam Grossman, Bri Luna, Karen Rose and many other fantastic witches you may already know and love. I'm so in love with it and I know you will be too. There're a few stills from the show at the top of this message.
Third, I have a little gift for you…
… a Lovers Year playlist on Spotify. So, it's not Lovers themed, exactly. It's basically just music I was listening to throughout the Lovers Year. It's a mix of sacred hymns, freak folk, and world psychedelic rock — you know, the usual (for moi). But listening to it is so… umami! I hope you enjoy it!
Let me know what you think in the comments. And Happy New Year, witches!
Yours ever,
Amanda